Wedding Cars News
For ideas and inspiration for your Big Day East Cork Wedding Cars will bring you news, views and great pictures of stylish cars, wonderful venues and beautiful brides…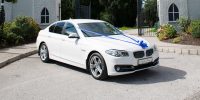 If you want your Groomsmen to travel in style why not consider a stunning White BMW 5 Series? The ultimate in sleek sophistication, with all the trimmings every guy loves about the BMW, including blacked out rear windows, air-conditioning and luxury leather seats....
read more
If you like what you see here get in touch…
Contact Seanie and arrange to come and see our luxurious wedding cars, take a seat and get a feel for the Big Day itself!
CONTACT US NOW!
Video
Arrive in style and book your luxury wedding car today.
Request a Callback
Contact Seanie today to set a date or fill in the Enquiry Form below.


Wheelchair Accessible Vehicles