Luxury Cars
Luxury cars are not just for weddings. Why not choose one of our luxurious cars for your special occasion, or corporate function.
The sophisticated Silver Chrysler, sleek White BMW 5 Series and Mercedes Vito Tourer Executive Limo, each with a friendly, professional chauffeur, are the perfect way to travel to that special occasion or important event.
Corporate Cars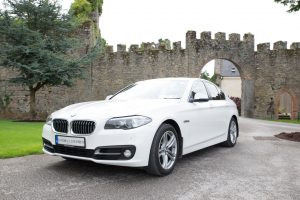 Corporate Cars can often be the difference between making an impression when it counts with an important client, and being forgotten as they move on to the next meeting.
Collecting a client from the airport in a chauffeur driven Silver Chrysler that exudes class and comfort will certainly make an impression. This fully air-conditioned luxury car with large sunroof and 19" alloy wheels is both spacious and comfortable. If you want a car that sleek and stylish, the White BMW 5 Series, driven by a professional and friendly Chauffeur, will give you the edge when you arrive at that important meeting or corporate event. Fully air-conditioned with blacked out rear windows and luxury leather seats, the gleaming white BMW will certainly make a statement. On those occasions when you have to collect a group from the airport or train station the Chauffeur driven Mercedes Vito Tourer Executive Limo can carry up to 7 passengers in separate, reclining leather seats, giving you both style and space.
Our luxury cars are available with drivers for corporate travel and functions throughout Ireland.
Special Occasions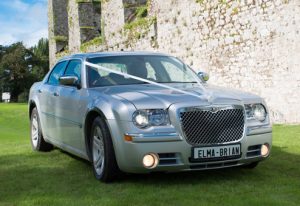 Special Occasions deserve to be travelled to in special cars. The stunning Baby Bentley (Silver Chrysler) and White BMW 5 Series driven by professional, friendly chauffeurs will transport you to your special event in celebrity style. Sink into the lavish leather seats in these fully air-conditioned beautiful cars as you travel to your destination in comfort and luxury. If you need something a little bigger, the Mercedes Vito Tourer Executive Limo, with individual reclining leather seats will carry your party to their destination in style.
All of our luxury cars are available to hire with drivers for events throughout Ireland. Whether it's a Lavish Party in Cork, a Debs or Grads Ball in Waterford, a Film Premier in Dublin or any special occasion anywhere in Ireland, make it extra special and arrive in one of our luxury cars.
If you need a luxury car for a corporate travel or a special occasion contact Seanie today and travel in style.
CONTACT US NOW!
Video
Arrive in style and book your luxury wedding car today.
Request a Callback
Contact Seanie today to set a date or fill in the Enquiry Form below.


Wheelchair Accessible Vehicles